Business enterprises are one of the main touchpoints of human engagement. They connect billions of people to economic activity, food, and livelihood. Any economic activity that we may have engaged with has a direct relation with Earth's nature.
Today, Governments and businesses around the world are working towards conserving nature. The larger the organisation, the bigger is its role. World Nature Conservation Day, which is celebrated on July 28 every year, is an important reminder to rethink what business organisations can do to contribute towards a greener planet.
Economic Dividend of Conserving Nature
The world over, citizens – individuals, corporates and governments are acting towards protecting biodiversity and nature. This has brought back the blue whale, mountain gorilla and European bison from the brink of extinction, while tiger population has increased incrementally in India and neighbouring countries.
Over 100 countries have committed to protect 30% of land and marine areas and to end deforestation completely by 2030. Funding into environmental conservation has increased with nine organisations committing to invest US$5 billion by 2030. Corporations globally are finding ways and means to save the planet and its nature.
Initiatives to protect biodiversity and nature have brought back the blue whale, mountain gorilla and European bison from the brink of extinction, while tiger population has increased incrementally in India and neighbouring countries.
Need for Collective Action
Businesses around the world need to take collective action to conserve the environment. The most immediate and effective way for organisations to contribute in conserving nature is to drive on to the green business pathway.
The following are some of the action points that an organisation can do to turn its business truly green:
Switch to clean energy. Every business has energy needs, and much of it has to do with fossil fuels or electricity. To minimize environmental degradation, organisations need to leverage cleaner energy alternatives, which include solar, natural gas, and wind. Switching to cleaner energy will be a major step to reduce carbon footprint.
For example, last year, Southern Petrochemical Industries Corporation Ltd (SPIC), moved from high-cost naphtha-based production into natural gas-based operations. Furthermore, Greenam Energy launched a captive floating solar power plant at SPIC premises. The state-of-the-art 22 MW solar power plant is among the country's largest floating renewable energy initiatives to optimise energy production in industrial plants. Organisations have begun investing into the adoption of clean energy in a big way.
Leveraging digital technologies of Industry 4.0. Every company should leverage advanced digital technologies and automation to build efficiency in almost every level of its business across the value chain. Smart factories, based on industry 4.0, would help any organisation in a number of ways.
It will help to maximize resource utilization, minimize wastage, optimize output, and enhance value of human capital as well as products and services. However, most importantly, it will help any organization reduce its carbon footprint and conserve nature by containing emissions and dependency on natural resources.
Transition to circular business model. Organisations need to reimagine their operations and business models. They need to transition from a linear to circular business model. Circular economy essentially includes recycling and waste management, extracting resources, and reusing them for manufacturing. Adopting a circular business model will further reduce the overt dependency on new natural resources and minimize environmental pollution.
Support afforestation and ecological conservation projects. Any organisation would need tremendous knowledge and practical experience to implement an ecological conservation project. This may not be convenient for many. However, they can definitely fund such projects. Also, they can take on preservation of natural bodies and initiate afforestation/plantation drives at the local level.
For instance, in one such initiative, AM Foundation partnered with Greater Chennai Corporation (GCC) to implement Chennai's first a Miyawaki-technique tree plantation project to increase the city's forest cover. The Miyawaki method is an ingenious model for increasing forest cover. Pioneered by Akira Miyawaki, a Japanese botanist and plant expert, it involves planting various native species for more diversity instead of one type of plantation. Such projects, when activated at the local level, can help businesses take the lead in conserving the environment.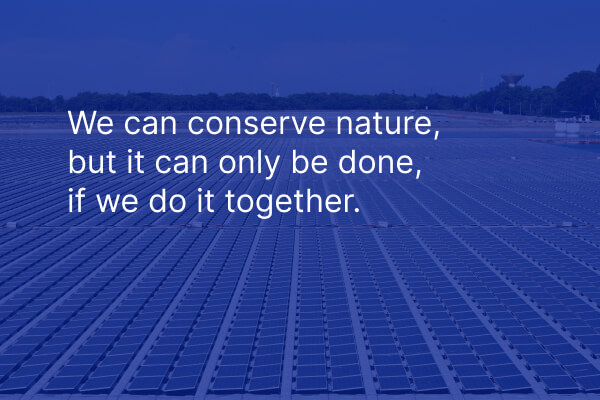 In the 21st century, sustainability and nature's conservation are collective responsibilities of businesses. There needs to be affirmative action on a war-footing, and the jump to a greener life should begin from the home itself. If we just ensure this, a massive feat will be achieved at a national and global scale. We can conserve nature, but it can only be done, if we do it together.