Dr Mobile is an effort that will contribute towards India meeting its Sustainable Development Goals by ensuring public-private partnerships in primary healthcare
The foundation of any nation's healthcare system is its primary healthcare. In a country like India where more than 65 percent of the population lives in rural districts, the condition of rural health infrastructure needs significant improvement.
As part of the Sustainable Development Goals, India aims to achieve Universal Health Coverage (UHC) by 2030. UHC basically means that all people have access to quality health services, including prevention, promotion, treatment, rehabilitation, and palliation – without incurring financial hardship. To understand UHC, we must remember that the following three elements are crucial:
Access
Quality
Financial protection
It goes without saying that one can't do without the other two. Access is not enough without quality and even quality is not enough if one has no financial protection.
Primary healthcare centres were started by the Government of India under the Ayushman Bharat scheme, as one of the steps toward achieving UHC. AM Foundation, the CSR arm of AM International group, Singapore is aligned to provide primary healthcare as a key impact measure. To further bridge the gap in the healthcare system, AM Foundation recently launched Dr Mobile, an innovative mobile medical van to treat patients residing in and around Manali in Chennai, Tamil Nadu. The van will travel to rural areas in the area of Andarkuppam, Kadapakkam, Kanniyamman Pettai, Theeyampakkam and Kosapur. Overall, the service will cater to around 10,000 beneficiaries.
Ashwin Muthiah, Chairman AM Foundation & Founder Chairman, AM International group, Singapore, recently said," India's goal of achieving universal health coverage by 2030 is possible only through sustained public-private partnership efforts. At AM Foundation, providing primary healthcare services to the needy is at the heart of our impact investment strategy. We are proud to contribute to the government's efforts in this critical mission. Dr Mobile will ensure deeper coverage over a larger geographical area with optimal use of resources, thus making quality healthcare available at the doorstep of the people who need it the most."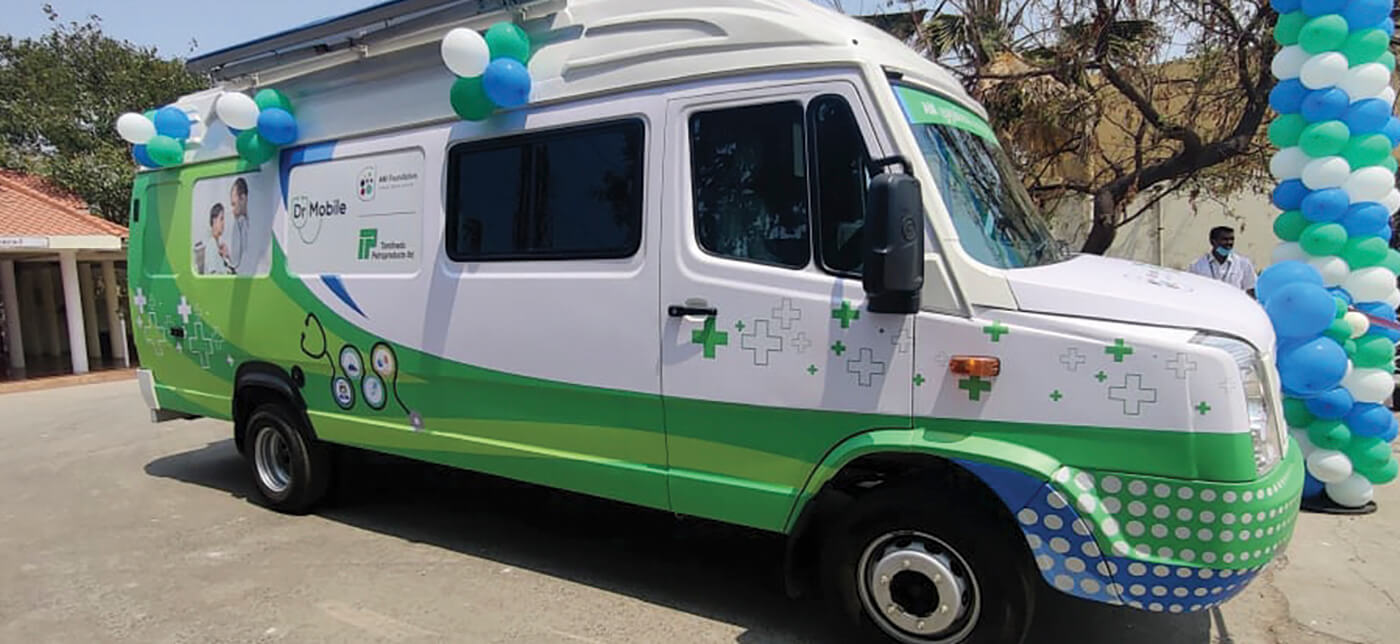 Apart from providing healthcare services as envisioned under UHC, the mobile van clinic will also provide these additional services:
• Camps
Dr Mobile clinic will conduct health camps for the ophthalmology, dental, ENT and disease such as cancer, arthritis and diabetes in association with leading hospitals.
• Awareness
Door to door demonstrations and camps will help educate economically weak households in the importance of nutrition, immunisation and environmental factors in preventive healthcare.
• Immediate care
The diagnostic facilities will help patients with any immediate care needed. Additionally, a tie up with government agencies will help provide access to tertiary and secondary healthcare.
Moreover, patients will be able to track the location Dr Mobile by simply using a mobile application, which is multilingual. This application will also help stakeholders in accessing real time data.
The benefits of mobile health model have been seen and accepted the world over, especially when it comes to reducing cost and flexibility of deployment. It is clear that a mobile health clinic can provide a range of services from investigation, pharmacy to operating theatres, critical care beds and satellite communications.
Healthcare is a fundamental human right and at AM Foundation, we believe in taking a lead to help bridge the barriers in accessing basic healthcare. The hope is that Dr Mobile can be that bridge to provide adequate medical infrastructure in rural and remote areas and also strengthen the nation's resolve in achieving UHC.